Thanks for all the great healthy snack ideas! I've been thinking about your suggestions and googling around trying to figure something out. I've found a couple of ideas that are super cute and I'm thinking about combining them. Here are some images I've found:
Kitchen Fun with my 3 Sons
Skip to my Lou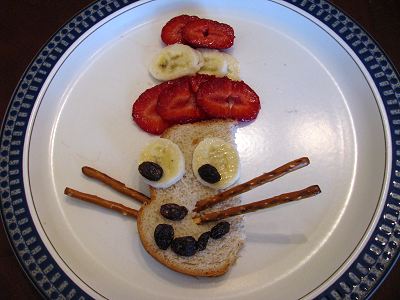 Naturally Educational
I'm thinking about half of a mini bagel with cream cheese for the face, raisins for eyes and nose, pretzels for the whiskers and strawberries and bananas for the hat. What do you think? Would that work? Would it be better to forego the cream cheese and just opt for bread? Or, maybe mini muffins with cream cheese? Thoughts?