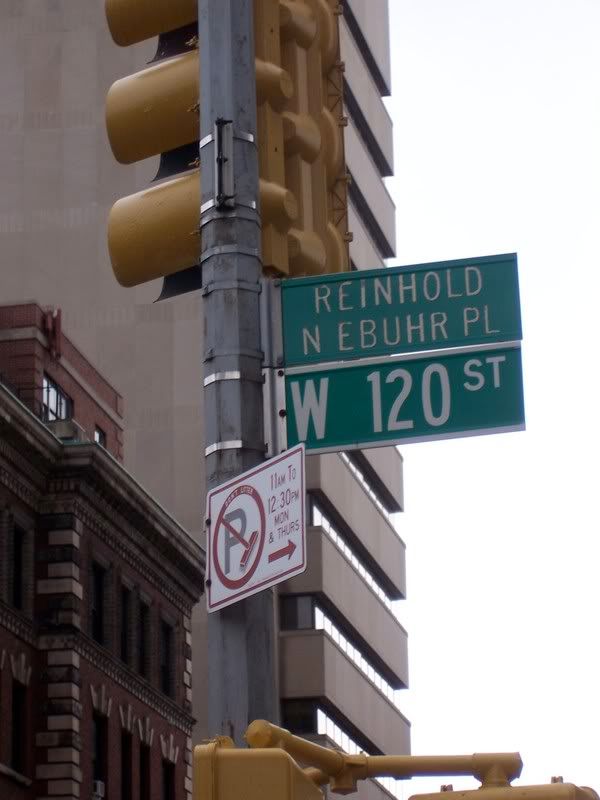 Well since this week is spring break, I finally have a little time to update my blog a bit. Normally my life's not incredibly exciting by most standards, but I did take a trip recently that qualifies as noteworthy. Now I captured the picture to your right on my recent adventure. It simply confirms what all of you have known for a long time. I am a nerd. I took a picture of Reinhold Niebuhr Place and I'm still jazzed about seeing it! But, back to the reason for I was able to enjoy this excitement. I joined Susan, Suzanah, and a host of other incredible women, young and old, in New York a couple of weekends ago for the 51st
Commission on the Status of Women
.
This annual conference held at the UN is "dedicated exclusively to gender equality and advancement of women." This year's theme, and the theme for the next two years is "the elimination of all forms of discrimination and violence against the girl child." The whole thing was fascinating! In my one day of meetings, I attended conferences on everything from the reproductive health of women in the world to media violence against women. I'm hoping to go back next year for a longer stay. This is something of extreme importance that deserves our attention. Countless NGOs and their representatives attend this event and lobby for policies for women around the globe. I strongly urge everyone to put this on your radar screen. Even if you can't attend, keep yourself informed. If one thing stuck out to me over the course of the weekend, that was it. I must make an effort to be informed about issues that affect women around the world because they affect me.
While I was there I also got in some good quality girl time that was much needed. Susan snuck me into a location that can't be disclosed on here without compromising her attempts to take over the
world
, but suffice it to say that it was well worth the slight feeling of fear in my stomach the whole time we were there! Suzanah snuck me into a couple of places too; perhaps she knew I'd need practice for the main event with Susan. I think there may even be pictures from the roof somewhere though I haven't seen those yet. :-)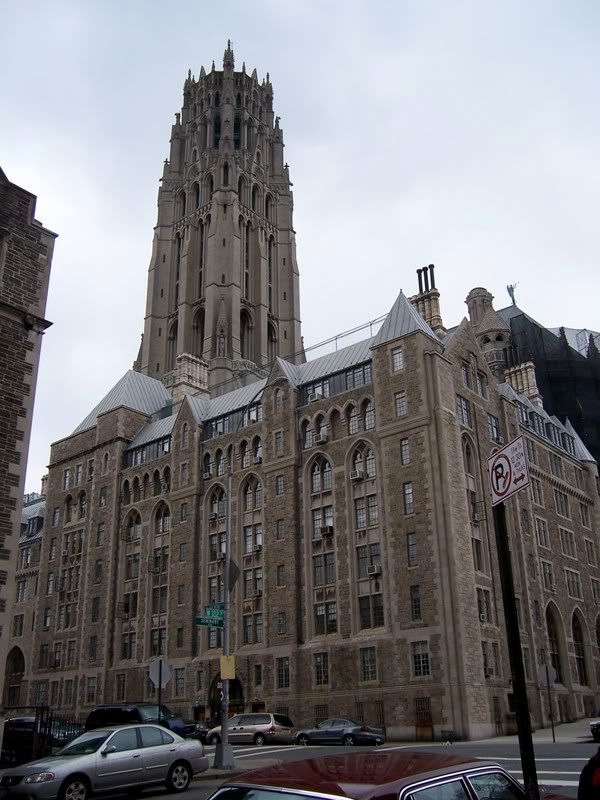 The picture to the left is of the church where we worshipped on Sunday morning, Riverside Church. Dr. Forbes is on sabbatical right now so I didn't get to hear him preach, but the service was wonderful nonetheless. We received a blessing from the music, the message, and the corporate confession. Perhaps my favorite part was receiving communion with this self-proclaimed interdenominational, interracial, and international congregation. It was beautiful to walk down the aisle to receive the bread and dip it into the cup with other members of the body of Christ. Powerful.
One of my favorite things about the trip was just getting to catch up with these amazing women of vision. Sometimes I need to be reminded that I'm not alone in my craziness and you gals did that. Thanks for your encouragement and for sharing your passions with me. It is exciting to hear about all of the amazing things that you are doing. I love you all and can't wait until our next gathering when we once again solve all of the world's problems. Or, at least take the time to talk honestly about them. But next time, let's all wear red shoes!