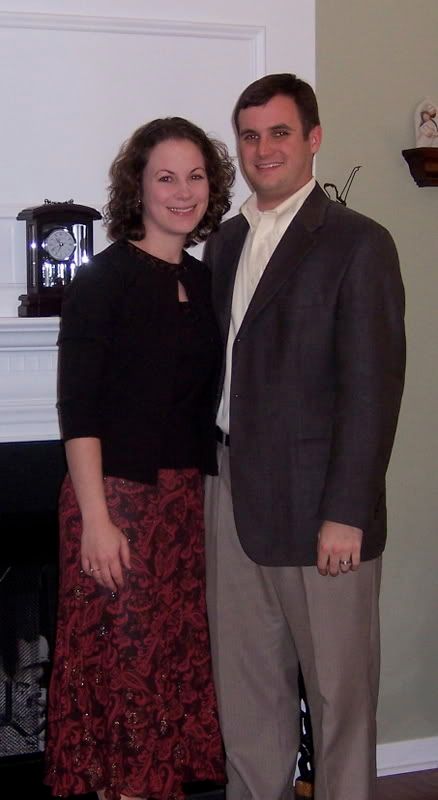 As most of you know, yesterday was our anniversary. We've now been married for the grand total of 3 years. Can you believe it? I almost can't, but I am gently reminded every night when I'm trying to get to sleep and the adorable deep-breather (though thankfully not a snorer) beside me tries to take up more than his half of the bed. Of course I take up more than my share of the covers so I guess we're even :-)
But back to the anniversary festivities. This year was Chad's year to plan. We take turns. This year I was in charge of Valentine's Day and he was in charge of the Anniversary. (Last year he handled Valentine's Day and I handled the Anniversary, you get the picture.) Believe it or not, Chad actually surprised me this year (well, kind of!). I'm supergood at figuring stuff out ahead of time because he usually can't stand it and gives me clues (or I accidentally overhear phone conversations!). Not this year though. I was in NYC for a weekend, giving him perfect opportunity to plan the perfect celebration of this critical three-year marker.
Last night I was told that we needed to leave our house by 5:45 to arrive for our dinner reservations at 6 (now this narrowed the choices of where we might be going in town so I had a good idea of where it might be). Chad, however, insisted upon telling me that we were going to the Taqueria for tacos. So we got all dressed up to go to the Taqueria and ended up at Four Square, a fancy smancy locally owned restaurant that I had been wanting to try for a long time. It was DELICIOUS...and beautiful. If I hadn't been so self-conscious, I would have taken a picture of all three courses! I was so full by the end that I couldn't even finish my dark chocolate flan with fruit compote. And, as you know, this is not common behavior!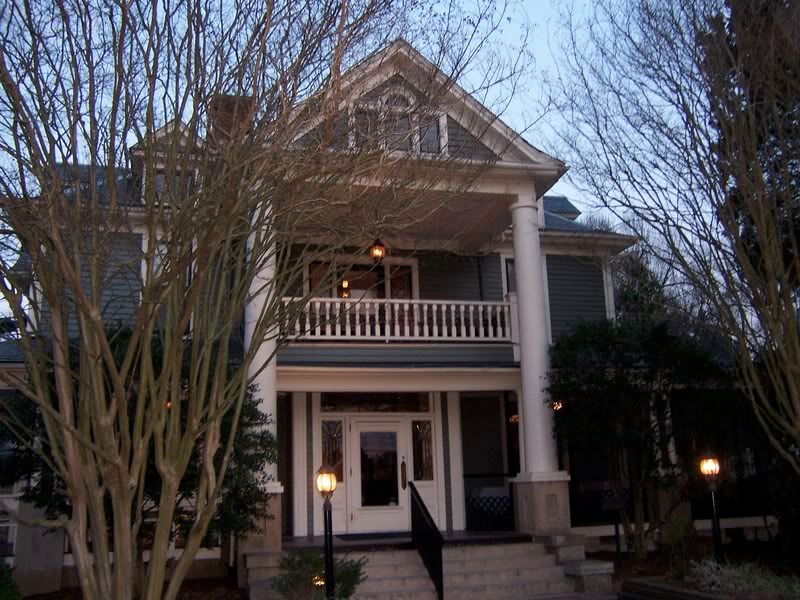 During dinner Chad (almost) convinced me that our next stop was the Nasher Art Museum at Duke. He claimed that they had an exhibit he thought I'd like. This didn't make sense given the time table he had quoted though so I was a bit suspicious - rightfully so! We ended up at UNC in Chapel Hill. Chad had tickets to see the Playmakers Repertory Company's current play, The Bluest Eye (based on the novel by Toni Morrison). Now he knew I wanted to see this. We had just talked over dinner about which night in the coming week would be the best night to head to Chapel Hill. That sneaky little thing tricked me as much as I can be tricked :-) The play left us both a bit speechless (hard to believe, I know!). Words cannot adequately describe the experience. I suppose the closest adjectives would be powerful and moving. I must read the book this summer.
So there you have it folks. A fun update complete with pictures for your viewing pleasure. The house is the restaurant that Chad took me too. Consequently, it was across the street from the Taqueria!